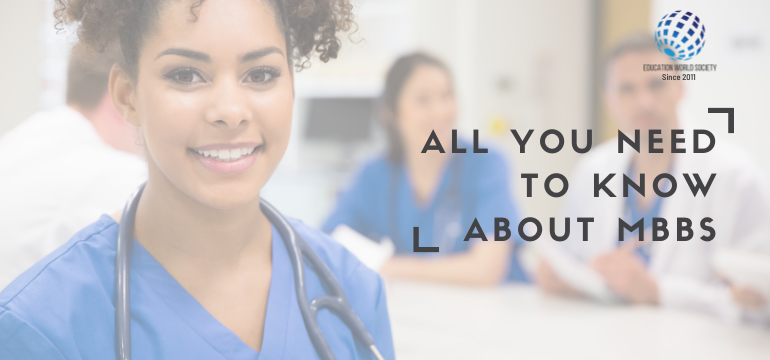 All You Need To Know About MBBS
The Medical Line is quite tough as compared to the Engineering Field. A Medical Degree has never been easy. MBBS is the most popular and designated degree to become a doctor. The full form of MBBS is Bachelor of Medicine and Bachelor of Surgery. MBBS is a specialized undergraduate degree in medical and surgical medicine conferred by medical colleges and universities. MBBS is one of the reputed and most pursued medical degrees in India. As per the 'Medical Council of India', there are 542 colleges offering MBBS courses and the total number of seats available is 79,855. 
Eligibility Criteria 
Following are the essential eligibility requirements to be fulfilled by the students in order to gain MBBS admission:
Candidates must have passed their 10+2 level of degree with 50% from any recognized board in science subjects like Physics, Chemistry, and Zoology/Botany with English as the main subject for their qualifying examination.

Candidates must have completed the age of 17 years before seeking

admission

to the

MBBS course.

Candidates need to qualify for the required

entrance exam

for

MBBS admissions

that is

NEET

Conducted by the

NTA [National Testing Agency]

. Students belonging to the reserved category must have a minimum percentage of 40%.

All the students will have to fulfill the additional eligibility conditions mentioned by the regulatory authorities for MBBS i.e. Medical Council of India (MCI).
MBBS Entrance Exams
For admission to the MBBS course in any college in India, a student needs to appear for the National Eligibility cum Entrance Test (NEET). This is the only entrance test for admission to MBBS courses and is accepted by both government and private institutions. 
Two other major entrance tests for admission to MBBS courses in India were JIPMER MBBS Exam and AIIMS MBBS Exam. However, these examinations were scrapped in 2019 making NEET the most important medical entrance test in India.
Admission Process 
In order to secure a seat in any of the top colleges offering MBBS in India, one needs to clear the NEET examination with a good score. NEET is conducted by the National Testing Agency (NTA). After appearing for the NEET examination and obtaining a scorecard, the selected candidates will be invited for the counselling session based on the student's rank. Candidates need to select the college of their choice from the colleges offered to them based on the rank they hold. Once they have opted for their preferred college, they need to present the documents to relevant authorities.
Admission Fees
MBBS course fees vary depending on government and private colleges. The average MBBS course fees ranges from INR 10,000 to INR 6 Lakhs per annum.
MBBS Syllabus
The MBBS syllabus for the entire course duration is divided into 3 phases, Pre-Clinical, Para-Clinical, and Clinical. MBBS subjects cover all the aspects related to the human body and its functioning.
The MBBS syllabus for 9 semesters is tabulated below for aspirants to refer to.
Phase

Semesters

Subjects Covered

Pre-Clinical

Semesters 1-2

Anatomy

Biochemistry

Physiology

Para-Clinical

Semesters 3-5

Community Medicine

Forensic Medicine

Pathology

Pharmacology

Microbiology

Clinical postings in Wards

Clinical

Semesters 6-9

Community Medicine

Medicine and allied subjects

Obstetrics and Gynaecology

Paediatrics

Surgery and allied subjects

Clinical postings
List of Government Medical Colleges :
Medical College, Kolkata

RG Kar Medical College and Hospital, Kolkata

Burdwan Medical College, Burdwan, West Bengal

All India Institute of Medical Sciences New Delhi

King George's Medical University, Lucknow

Madras Medical College, Chennai

SCB Medical College, Cuttack

Grant Medical College, Mumbai
You can view the other government colleges from here. 
List of Private Medical Colleges :
Christian Medical College, Vellore

Kalinga Institute of Medical Sciences, Bhubaneswar

St Johns Medical College, Bangalore

Army College of Medical Sciences, Delhi

Kamineni Academy of Medical Sciences and Research Centre, Hyderabad

SRM Medical College Hospital and Research Centre, Chenna

i
For more Private Medical colleges, click here. 
After completion of the MBBS degree one has already become a doctor, but it's generally referred to as a general physician. Many students go on to do specializations in particular subjects to become an MD/DM. One can obtain post-graduation in various specialties like internal medicine, general surgery, gynecology, pediatrics, cardiology, etc. Education World Society gives you free online counselling along with direct admissions to various top medical colleges across India. We do our best to cater to the needs of the students as well as provide financial aid like student loans.