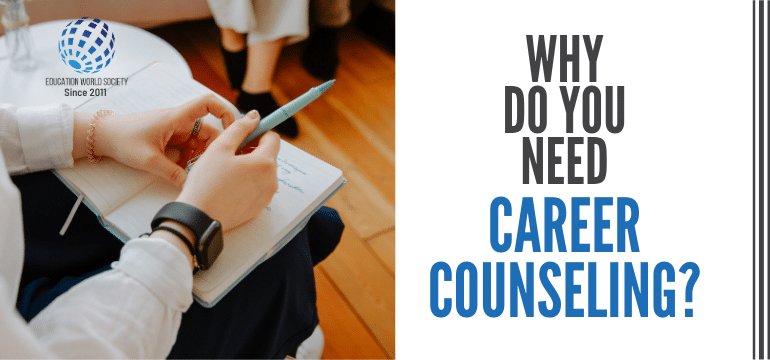 Importance of Career Counseling
It's definitely been a long week, the JEE Mains results were out on the 11th of September, and NEET candidates await their results after appearing for their exam on the 13th of this month. Students are seeking admissions in different B. Tech colleges and exploring different career options like engineering, medical or other streams. This juncture of life seems to be very tense and tiring for many students due to the burden of exploring colleges and different career paths. Here comes a simple solution to all career-related problems. So what is the importance of career counseling in a student's life?
What is Career Counselling?
Career counseling is a science-based method to help students find their correct path of education for succeeding in life through their own self-analysis. Well guided research states that "the total development of a child can only take place in an environment conducive for teaching and learning". After the JEE Mains exam, many students are baffled as to which subject can be beneficial for them. It is indeed a very crucial job as the career of a student depends on one life choice. It can be said that good guidance can shape a student's future and make society a better place. The science behind Career Counseling includes a two-step examination of a candidate. The process of understanding an individual's skill is done by a popular test known as the Brain Matrix Test.
Brain Matrix Test
A BMT or A Brain Matrix Test allows its user to understand the intelligence level of a person. For parents, it is quite important to understand the intelligence level of their children and BMT is the answer. BMT majorly has two components:
1. Dermatoglyphics Multiple Intelligence Test (DMIT)
2. Psychometric Test
These tests usually occur in 2 stages:
The first stage includes a fingerprint scan of the candidate to analyze the genetic intelligence of the child.

The second stage begins with the psychometric test of the child. The test includes questions asked about the daily activity of the child and the recording of the same for further analysis.

After these steps, the data is gathered and analyzed to figure out the functionality of the left and right brain. These reveal the candidate's strengths, personality, weakness, behavior, and ability to learn. These tests are internationally recognized as intelligence quotient tests and when analyzed thoroughly, it gives out the exact results.
Advantages of Career Counselling
Many students unaware of effective career choices, choose the bandwagon of popular jobs. It is here that a Career Counsellor comes into the picture. Here are some advantages which prove that career counseling can be of great help.
1. Self Assessment- Determining a student's strengths and weaknesses is a major step towards understanding what exactly a student wants in his life. There are a number of B.Tech courses, but which one the candidate can flourish in may be confusion. Hence to solve these problems career counselors are present.
Career direction- After determining the strengths and weaknesses, they guide the candidate by giving them options to choose from where they can choose the correct career course.
Placement- A career counseling session does not end there. Even after graduation, the counselors help candidates get a job which would then help in climbing the ladder to success.
4.Scholarships- Scholarships are a part of many career counseling institutes. Education World Society is one of the top career counseling institutes which help candidates get scholarships which are an added advantage as well as a booster in the lives of the students.
Added services like direct admission, admissions to colleges abroad, providing local guardians, these all come in a bundle which you contact an education counselor.
An educated student can be a great asset in society and as well reflect his passion for others so that he/she can also grow up and be a better human being. But it is very important to be careful while one chooses their career counselors. There are a lot of education counselors but you need to choose the best for your future as improper guidance may be to a casualty irrecoverable. Education World Society, a West Bengal Government registered NGO, came into existence in the year 2011 with the belief of "Education for All". We are among the very few education consultants of Kolkata who provide free online career counseling with the expertise of a decade in the field. Our founders are awarded prestigious awards like The Times Knowledge Icon 2019, Kolkata – Emerging Education Counsellors, and Brand Icon of the Year 2019 – Best Career Counsellors in India. These eminent awards display the efficiency and expertise of our organization in the field of education. Keeping strictly to the motto – "Education for all, All for education" our team of experts guides young aspiring students towards a brighter future. We thrive to guide young budding students to live their dreams and pursue the right career path based on the evaluation we make from Career Counseling.