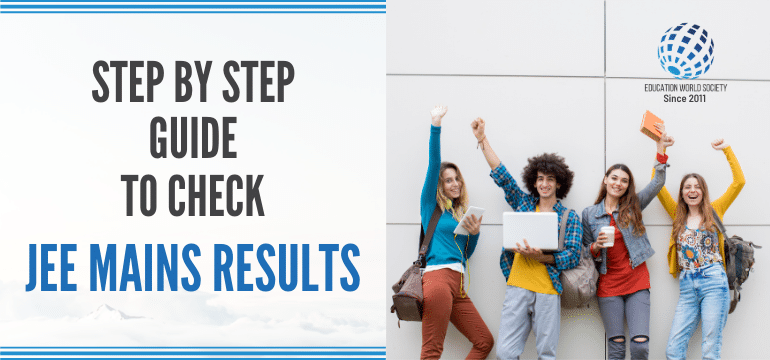 Step by Step Guide To Check JEE Results
National Testing Agency, NTA has declared JEE Main Result 2020 today, 11th September 2020. The result is now available to candidates on the official site at jeemain.nic.in. We congratulate all the students for passing yet another examination of their life. Standing in this juncture of your lives, many major decisions have to be taken. We at the Education World Society are here to provide you with the best, online career consultation for free to help you choose a suitable career for yourself. We provide you with the direct link to check your results here.
Steps to check the JEE Mains results:
Visit the official website of

JEE Main

,

jeemain.nic.in

Click on the link on the homepage which says

JEE Main

April/September 2020 Result

A new page will open

Enter roll number and other details to log in

Download the result for further reference

Print a copy of the result for use in the future.
Below is the information that will be mentioned on JEE result 2020
Name of Candidate

JEE Main Application Number

Roll Number

JEE Main 2020 scores

Category

State of Eligibility

Subject-wise scores

Gender

Cut off marks
Things to keep in mind while entering Security Pin in JEE Main 2020?
Security pin appears on the login page of JEE Main
It is case sensitive including upper lower case alphabets and numbers
It is randomly generated by the website and this is different every time a candidate refreshes the login page
It is given for the security reasons of the website login
If it is showing blank, refresh and enter the login credentials
Marking Scheme of JEE Main 2020
NTA will follow the predetermined marking scheme of JEE Main to calculate scores. This year, the authority has also introduced numerical based questions. Below is the marking scheme for all the three papers.
JEE Main marking scheme for MCQs
FEATURE DETAILS
Correct answer 4 marks will be awarded for every correct response
Incorrect answer 1 mark will be deducted for every incorrect response
Unanswered/marked for review No marks will be given for un-attempted/unanswered question
JEE Main marking scheme for Numerical Based Questions
FEATURE DETAILS
Correct answer 4 marks will be awarded for every correct response
Incorrect answer No mark will be deducted for an incorrect response
Unanswered/ marked for review No marks will be given for un-attempted/unanswered question
Note:
After the exam, NTA will publish JEE Main 2020 answer keys & recorded responses of multiple-choice questions of Paper-1 Paper-2 and Paper -3 on NTA's official website
JEE Main 2020 result will be based on the final answer keys of the exam
Aspirants, who are not satisfied with the recorded response, will be allowed to challenge the same by filling the online application form and paying the processing charge of Rs.1000/- per question
Evaluation of multiple-choice questions of Paper-1 (BTech), Paper-2 (BArch), and Paper-3 (BPlan) will be carried out using final answer keys. The final marks obtained by a candidate will be considered for calculating the result of JEE Main 2020
How to calculate JEE Result/Rank?
JEE Main 2020 result will be determined through the process of normalization. The exam will be held on different days and sessions, thus, some candidates may get an easy paper while others have to answer harder questions in the JEE Main 2020 exam paper. To make sure that no aspirant benefits or is at a disadvantage due to this, the process of normalization will be adopted to determine JEE Main results and ranks. NTA will rank students on the basis of the percentile score obtained in the exam. This percentile score will be calculated as per a predetermined formula.
What is "Percentile Score"?
The percentile score will be based on the relative performance of all the aspirants appearing in the exam. The score will be obtained after transforming the scores into a scale ranging from 100 to 0 for each session of examinees.
As per the official website, "The Percentile Score indicates the percentage of candidates that have scored EQUAL TO OR BELOW (same or lower raw scores) that particular Percentile in that examination. Therefore the topper (highest score) of each session gets the same Percentile of 100 which is desirable. The marks obtained in between the highest and lowest scores are also converted to appropriate Percentiles."
Get direct admissions to these colleges
Institute of Engineering and Management (IEM), Salt Lake
University of Engineering and Management (UEM), Kolkata
Heritage Institute of Technology, Kolkata
Techno India, Salt Lake
B. P. Poddar Institute of Management & Technology, Kolkata
St. Thomas' College of Engineering and Technology, Kidderpore, Kolkata
RV College of Engineering, Bengaluru
BMS College of Engineering (BMSCE), Bengaluru
Kalinga Institute of Industrial Technology (KIIT), Bhubaneswar
We at Education World Society, a West Bengal Government registered NGO, are here to assist you and guide you in a correct path. We provide free online career counseling while taking into consideration the wants and needs of the candidates. We provide a solution that is only beneficial. Direct admissions to many colleges across cities like Kolkata, Bangalore, Pune, Delhi, and Ghaziabad. We also offer Scholarship Programs for college students willing to study abroad. We cater to all the needs of the students from career counseling, to providing colleges and local guardians when the students opt for abroad studies or in any other city in India. But our services are not limited till here, we help you get good placements too. It is our duty to cater to your needs even after you get a good college.